Flexible Design
Adhering to the guiding principles of well-engineered design, quality control, safety, reliability and longevity, BHS has created an outstanding, industry-leading product. We employ a simple bolted joint connector system to connect the panels.  Each of these 12 foot high curved steel wall panels is serialized for material and manufacturing traceability. Each panel is built with 2 inch rigid insulation equals R13 factor to maximize insulation to eliminate freezing and reduce heating costs.
We have developed a form fitting one-piece "Bucket Style Liner" custom made for individual tank sizes.  These polyethylene conductive liners are electronically tested for flaws.  BHS has deployed more of these conductive lines than anyone else in Industry.
We also offer a unique, safe, economical and reusable insulated tank cover system (R5 factor).  This floating tank cover dramatically reduces heating costs and evaporation rates.  In addition, we offer a netted cover to aid in protecting birds and other wildlife from entering the tanks.
Key Design Features
- Sizes range from 710m3 (4,400 bbl) to 9,136m3 (57,000 bbl)
- Bolted joint kit for quick and easy installation
- 12 foot high curved steel wall panels are rhino coated inside and out
- Steel wall panels are serialized for material and fabrication traceability
- 2″ rigid insulation providing R13 factor
- 2 panel lengths of 27 ft. and 39 ft.
- Polyethylene liners are built to tank size and allow for electronic holiday testing
- Liners are corrosion and chemical resistant
- Floating tank covers are safe, economical and insulated providing R5 factor
- Tank covers dramatically reduce heating costs and evaporation rates and eliminate freezing.
- Panel supports provide extra safety for installation in windy conditions
- Designed for easy assembly, mob, de-mob and transport
- Replaces pit construction and reclamation
- Greatly simplifies manifold installation and water management compared to small tank batteries
- Wildlife netted protective cover systems available.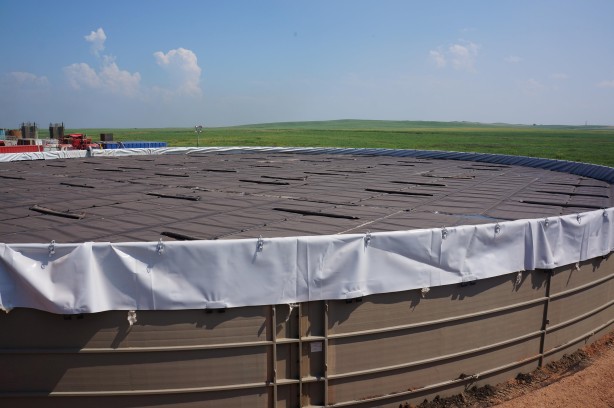 BH 1500 Model – 148 Foot Diameter