Advantages
Big Holding Offers a Superior, Professionally Engineered Product
BHS offers the following significant commercial and technical advantages:
A) Buy, Rent or Lease
BHS is offering a range of options including tank purchases, lease-to-own and rentals. BHS believes it is the only market participant to offer this range of options to its customers.
B) Flexible Designs
We have designed each panel with 2 inch rigid insulation equals R13 factor to maximize insulation to eliminate freezing and reduce heating costs. Options include no insulation and up to 4 inches (R26) upon request.
We are the only company offering a polyethylene conductive liner individually fitted for varying tank sizes.  These are the only liners in the industry electronically tested for flaws and with the capability for holiday testing prior to filling the tank. BHS has exclusive industry access to this patented feature.
BHS offer a unique, safe, economical and reusable insulated tank cover system (R5 factor) that can be supplied in a variety of thicknesses providing R factors from 5 to 20.  This floating tank cover dramatically reduces heating costs and evaporation rates.  During winter, heaters must be used to maintain water temperatures.   We also offer exclusive access to a leading heater technology which can be provided to our clients on a seasonal basis.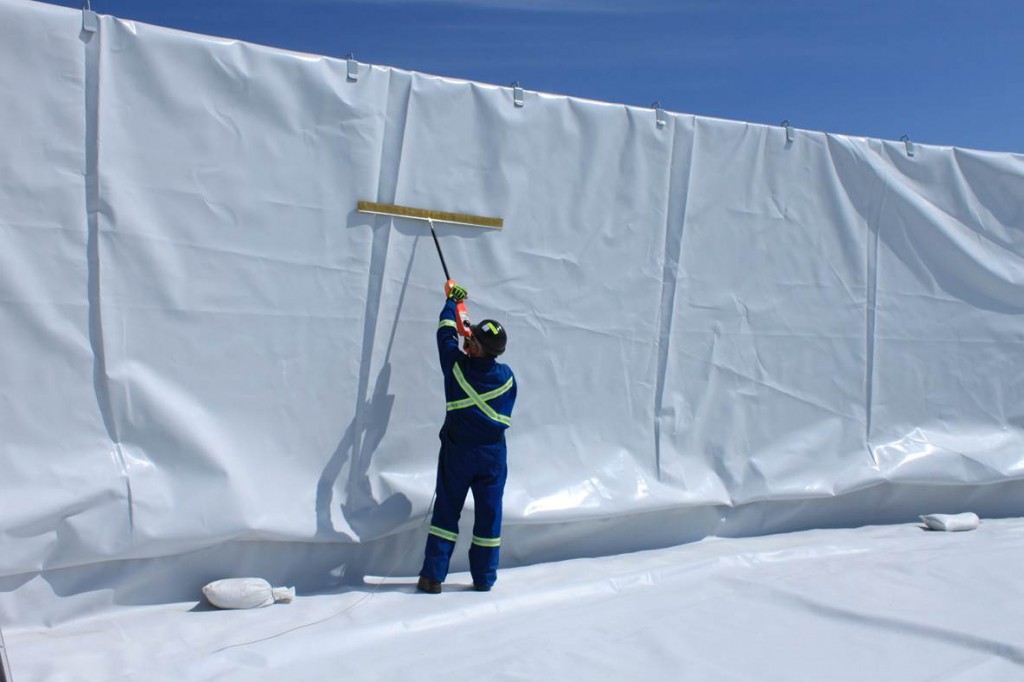 Electronically testing the liner for flaws prior to filling the tank.

Simplified Logistics

Big Holding water tanks require a very simple setup and are convenient to transport and use.

Our tank building system can be transported to an oil and gas site using one standard size semi-truck (maximum of 3 for larger models) eliminating the need for pilot vehicles and considerable expense to transport dozens of smaller water containers.

An experienced crew can install our largest tank in one day.  We provide detailed installation manuals allowing our clients the flexibility of assembly and disassembly using their own site personnel. We also provide onsite installation supervision and training upon request.  We strive to meet the most stringent quality and safety standards within the industry and provide a completion check list for additional safety and security of the tank system.

As options, BHS can offer moveable, engineered panel cradles that allow the quick unloading and release of expensive transport trucks. These cradles also provide secure storage of tank accessories for safe tank transportation.

Environmental Responsibility

BHS is proud to be a responsible environmental company.

BHS Tanks eliminate the need for environmental disturbance caused by excavation of large water containment pits or traditional earth ponds.   There is minimal site preparation and remediation following disassembly of the water tank.

The capacity of our large tank system enables us to reduce the amount of smaller containers needed for conventional tank farms thereby reducing our carbon footprint through elimination of dozens of semi-truck loads and pilot vehicles.

In addition, we offer a re-usable netted tank cover to aid in protecting birds and other wildlife from entering the tanks or damaging your equipment. Our proprietary re-usable covers dramatically reduce heating and water evaporization losses, thereby reducing your greenhouse gas emissions.

Satisfied Customers

You can be assured that no matter the tank size or service option you choose, you will be rewarded with exemplary customer service from the BHS team.

What our customers are saying about us:

"I can't tell you how impressed I am with the final product. The conductive liner is a great addition. Big Holding Systems is truly a class company that we are proud to be associated with." – Houston

"Big Holding Systems (BHS) innovative floating insulated cover design, combined with their industry leading tank construction and insulation value, has cut our heating costs between 60-75%. This saving is over and above the overall cost reduction we get using the BHS system for frac water management."– North Dakota